E-commerce Accelerator
Work with a team of e-commerce experts who update, promote and support the growth of your online store. For a fixed monthly fee.
Ongoing updates and marketing of your e-commerce business
Regular meetings to set goals, make progress and analyze results
Like having a marketing department, for a fraction of the cost
A mix of marketing activities to accelerate your ecommerce growth
E-commerce Accelerator is a monthly service, where a team of experts manages the growth of your ecommerce brand. We build a plan that includes a combination of activities that are relevant to your brand. The activities include a mix of:
Strategy & Project Management
Organization is at the core of every action we take. Our project managers hold monthly and quarterly strategy meetings to create action plans and review progress. This helps you and our team to stay organized and on track.
Email Marketing
Setup, design and ongoing management of your email marketing strategy. Email is the #1 source of revenue for most e-commerce brands. When you have a solid list of email subscribers, then you can grow your business more effectively.
Customer Reviews
Product reviews and customer stories play a big role in the success of every ecommerce store. That's why our team takes a hands on approach to collect high quality reviews from your customers in the form of text, photos and videos.
Website Updates
Ecommerce websites are dynamic in nature and require ongoing updates in order to thrive. That's why our team makes sure your website stays fresh with regular updates. This can include app installs, theme upgrades and content updates.

Content Creation
Using proven frameworks our team creates relevant content for your ecommerce website. This includes information pages, product descriptions, category pages and ongoing blog articles. These are designed to increase website traffic, provide better customer service, and increase online sales.
Search Marketing
This service includes setup and ongoing optimization of your paid ads on Google – including Search ads, Shopping ads, and Display ads.
Social Media
Creating engaging content and growing your social media presence on Facebook, Instagram, YouTube and more. This might include paid social ads and organic posts.
Analytics Reporting
Setup and analysis of Google Analytics and visual analytics tools (like LuckyOrange) to show you how your ecommerce website is performing. We create monthly reports that show your key performance indicators – which help us to decide how to improve.
Custom plan to fit your business.
We work in 90-day cycles to keep your marketing active and organized. Your plan will be customized based on your company's current needs. As the business owner – you will know that a professional team is continually working on growing your brand. Here is a sample Timeline:
Graphic shows a sample Marketing Timeline with hundreds of activities that are designed to grow your ecommerce brand.
The Problem of Every Growing Company
As a business owner, you want to grow. Growth means more sales and more money in your bank account.
But growth is rarely linear or simple.
Many times running a business feels like this:
The good news is that your business is growing.
The bad news is that a growing business has growing pains.
But, What If Things Could Be Simpler?
Ecommerce Accelerator program solves some of your most pivotal business growing pains.
BEFORE Accelerator
Marketing feels chaotic. Important decisions are constantly delayed. It's tough to plan for the future because there's no clear strategy. Business owner is stressed and always feeling behind.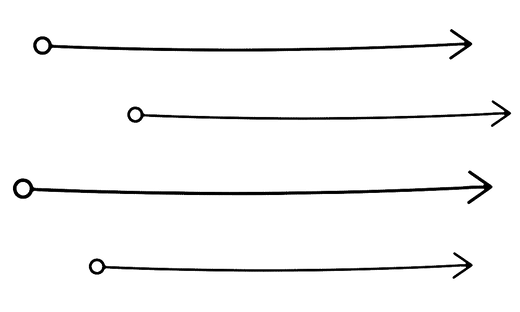 AFTER Accelerator
Marketing efforts are organized. Important decisions are addressed on time. The growth strategy is clear. There's quarterly, monthly and weekly momentum. Business owner is calmer and happy.
Why Hire Us
Our customers love this service for many reasons, including:
Organized Marketing Work
In most businesses, marketing activities are not organized. With Accelerator, everyone stays accountable to work on your company's marketing on an ongoing schedule.
Strategy & Execution
We have worked with many brands for over 20 years. So we help you create an effective strategy – so you know where to invest and where to save your time/money.
Different Skills / One Team
Get access to our talented team, which includes a digital marketer, copywriter, graphic designer, website developer and project manager.
Build Creative Assets
As you work with our team, we help you to build your marketing assets (like graphics and content) in one central place. Files will be organized in the cloud for easy access in future projects.
Fixed Monthly Price
You don't need to worry about surprise invoices from different contractors. One monthly invoice covers all scheduled work.
Scale As You Grow
As your business grows and requires more marketing resources, we will expand our team to support you. This saves you time and money with hiring and managing staff.
Questions & Answers
What experience do you have with Shopify and eCommerce websites in general?
How can I gauge the potential success of my eCommerce business idea?
Why should I choose Shopify vs other eCommerce platforms?
Why do I need the eCommerce Accelerator?
What type of services are included?
Is eCommerce Accelerator program right for me?
How long does it take to see results?
What's my investment for the Ecommerce Accelerator?
Why work with Shop Innovator?
We have 10+ years of experience supporting hundreds of popular Shopify websites, apps and themes. Our Shopify Support & Maintenance Services are designed specifically for growing companies that depend on a steady performance of their online stores. Get in touch to find out how we can support your Shopify store.